assistant_photo
La tienda Nº1 en España - Valoración Google 5 Estrellas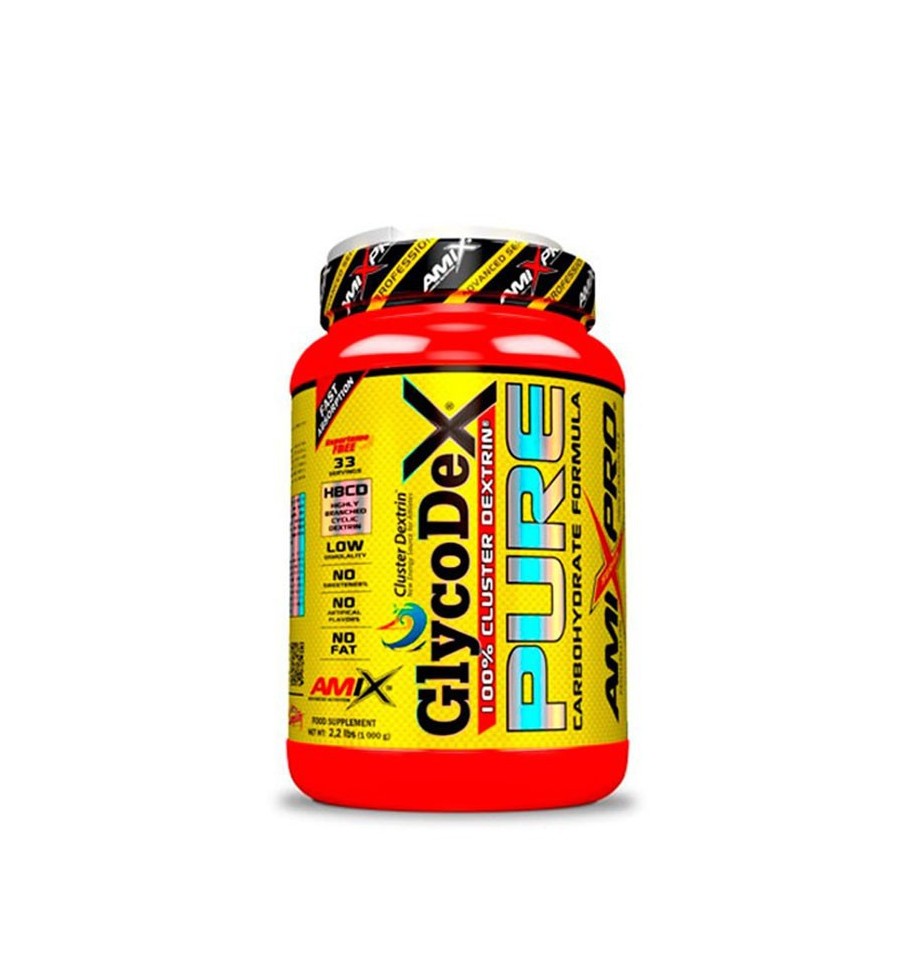 
La ciclodextrina es un compuesto formado por moléculas de monosacáridos unidas en forma de anillo
Pedido con OBLIGACIÓN DE PAGO.

Según anexo del RD. Legislativo Artículo 1/2007

Envío Gratis 24 horas

(Consultar condiciones especiales)

Política de devoluciónes

Hasta 14 días (Consultar condiciones)
Amix Pro Glycodex Pure 1 kg, un suplemento compuesto por Cluster Dextrin® (Una fórmula patentada de ciclodextrina), también conocida como dextrina cíclica altamente ramificada (HBCD – Highly Branched Cyclic Dextrin) el carbohidrato más recomendado en actividades físicas prolongadas y de alta intensidad.
La ciclodextrina es un compuesto formado por moléculas de monosacáridos unidas en forma de anillo -oligosacáridos cíclicos - que se producen a partir de amilopectina por medio de una conversión enzimática. El resultado es un polímero de glucosa con propiedades ideales: muy baja osmolalidad con un peso molecular relativamente alto y, por lo tanto, un vaciado gástrico muy rápido.
Esto significa quepasará menos tiempo en tu estómago en comparación con cualquier otra bebida de carbohidratos disponible en el mercado basada en carbohidratos tradicionales (dextrosa, maltodrextrina…), reduciendo al máximo cualquier posible molestia a la hora de realizar ejercicio.
Los hidratos de carbono contribuyen a la recuperación muscular después del ejercicio intenso y / o prolongado que implica fatiga muscular debido al agotamiento de las reservas de glucógeno en el músculo esquelético. Con Amix Pro Glycodex Pure 1kg podrás alargar tus entrenamientos, mejorar la recuperación entre series, y recargar los depósitos de glucógeno de la manera más efectiva tras tus entrenamientos explosivos, a la vez que te ayudará a aumentar tu masa muscular magra (libre de grasa) de forma rápida y totalmente natural.
La Cluster Dextrin® usada en pertenece a una nueva generación de suplementos a base de carbohidratos. Estamos ante el siguiente paso evolutivo para los diversos productos basados en carbohidratos en el mercado.
Formato:
Bote de 1 kg.
Modo de Empleo:
Mezclar un cacito (30 g) con 250ml de agua o con su bebida favorita. Se puede usar antes, durante o después de la actividad física.
Información Nutricional:
| | |
| --- | --- |
|   | Por 100 gr |
| Energía | 1600 kJ/376 kcal |
| Grasas  | 0 g |
| de las cuales grasas saturadas  | 0 g |
| Carbohidratos | 97 g |
| de los cuales Azúcares  | 0 g |
| Proteínas  | 0 g |
| Sal  | 0 g |
Customers who bought this product also bought:
14 other products in the same category:
Select a row below to filter reviews.