assistant_photo
La tienda Nº1 en España - Valoración Google 5 Estrellas

Vegan Protein de Weider son de guisante (Pisane C9) y arroz de alta calidad. Con un plus de extractos vegetales y de cereales orgánicos. Sin lactosa, sin gluten, sin colesterol.
Pedido con OBLIGACIÓN DE PAGO.

Según anexo del RD. Legislativo Artículo 1/2007

Envío Gratis 24 horas

(Consultar condiciones especiales)

Política de devoluciónes

Hasta 14 días (Consultar condiciones)
Vegan Protein de Weider es tu mejor opción si deseas incluir en tu alimentación una proteína vegana de la mayor calidad y delicioso sabor. La proteína de guisante gracias a su excelente composición de aminoácidos es la mejor proteína vegetal que puedes utilizar, ofreciendo un valor nutritivo equiparable a la proteína de suero. La proteína principal de Vegan Protein es aislado de guisante (Pisane C9) que se ha enriquecido con proteína de arroz, al combinar la proteína de una legumbre con la de un cereal obtenemos una proteína de alto valor biológico y fácil digestión. 100% tolerable.
Dirigido a todas aquellas personas que necesiten un aporte extra de proteínas y se preocupan por su salud, como por ejemplo deportistas, personas de la 3ª edad y personas con un elevado desgaste físico. Vegan Protein es ideal para todos aquellos que desean consumir proteínas vegetales limpias, seguras y naturalmente libres de lactosa, gluten y colesterol. También es perfecta para todas aquellas personas que aunque no sean vegetarianas, quieren reducir su consumo de proteínas animales sin reducir la calidad de las proteínas de su dieta. El origen y proceso de obtención de las proteínas vegetales que componen Vegan Protein de Weider se lleva a cabo mediante procesos físicos y sin utilizar disolventes químicos como el hexano.
Ingredientes: 82% Aislado de proteína de guisante (100% Pisane® C9), 10% cacao en polvo bajo en grasa (Theobroma cacao L.), 3% aislado de proteína de arroz, aroma, 2% ModCarb™ (salvado de avena (sin gluten), quinoa, amaranto, alforfón (sin gluten), mijo), aroma natural, 0,1% Fruit & Greens™ extract (paprika, jengibre, brócoli, espinaca, col rizada, col, té verde, frambuesa, plátano, kiwi, mango, ciruela, lima, arándano, piña, naranja, pomelo rosa, cereza, limón, coliflor, trigo germinado (sin gluten), alfalfa, spirulina, chlorella, maltodextrina, goma arábiga, almidón de maíz), edulcorante: glucósidos de esteviol (extracto de stevia); cloruro de sodio.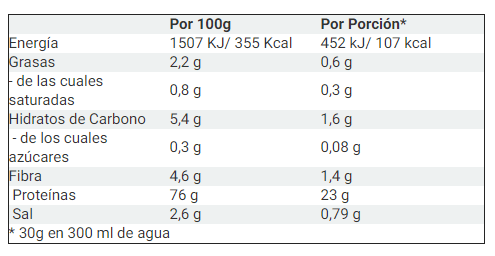 Customers who bought this product also bought:
8 other products in the same category:
Select a row below to filter reviews.