assistant_photo
La tienda Nº1 en España - Valoración Google 5 Estrellas

Uno de los mejores recuperadores articulares del mercado para favorecer una salud articular completa ante el entrenamiento más intenso.
Pedido con OBLIGACIÓN DE PAGO.

Según anexo del RD. Legislativo Artículo 1/2007

Envío Gratis 24 horas

(Consultar condiciones especiales)

Política de devoluciónes

Hasta 14 días (Consultar condiciones)
Desde la actividad diaria normal hasta el entrenamiento más intenso, se produce una ligera debilitación y desgaste de las articulaciones que puede derivar en lesiones. Para esto Quamtrax nos presenta un producto para, no solo mantener una correcta salud articular, sino además mejorar la recuperación de articulaciones dañadas.

Cuenta con un aporte de glucosamina, que es fundamental para la formación del cartílago articular y es también utilizada para tratar el dolor e inflamación producidos por las lesiones articulares. Está complementada también con condroitina y MSM que cumplen una función reparadora, antioxidante y analgésica ante las lesiones articulares.
Factor recuperador articular ante el desgaste producido en el día a día o en el entrenamiento.
Función analgésica y anti inflamatoria para reducir las molestias producidas por lesión.
Ingredientes
Sulfato de Glucosamina, Sulfato de Condroitina, MSM (Metilsulfonilmetano), maltodextrina y excipientes: estearato de magnesio y E-464.
Conservación
Mantener bien cerrado en un lugar fresco y seco.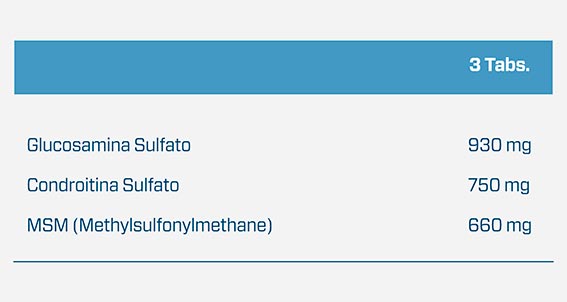 Customers who bought this product also bought:
€65.45
€72.73
Regular price
-10% off
Price
16 other products in the same category:
Select a row below to filter reviews.